| | |
| --- | --- |
| Country | Australia & New Zealand |
| Products | CSI Gen2 & Gen3 Inverters |
| For | Installers & System Owners |
Being able to monitor your PV system online is becoming the most important feature for system owners as it can provide useful information on the system so maintenance can be easily carried out when there is an issue. CSI Solar provides the best platform for PV system monitoring, as well as helping create a neat structure and access level within your organisation.
For Solar Installers:
The designated app for solar installers is CSI Cloud Pro:

A typical flow chart of using CSI Cloud Pro: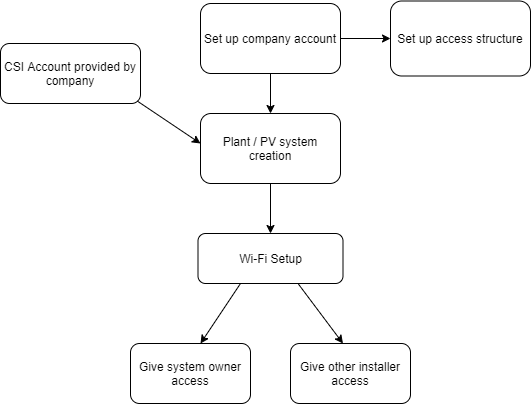 According to the chart above, the person who creates the CSI Cloud Pro account has the ultimate access. If you are the solar company owner, you should setup the CSI Cloud Pro account and set up company structure which suits your company structure.
If you are the installer/sub-contractor, you should be provided with a CSI Cloud Pro account.
After the account is being set up, the installer needs to create plant + set up Wi-Fi monitoring, then the installer should give the system owner and other business users access if needed.
Click on each blocked phrase for a more detailed guide.
For PV System Owners:
The designated app for system owners is CSI Cloud:

The installer should help you set up your CSI Cloud account and give you access once everything is working online.
You can also set up your own CSI Cloud account and ask the installer to give you access later, or you can authorise your solar business following the video instructions below:
CSI Cloud
Using app
Using Website
We hope you find this article helpful.